Infrastructure Development has been our Business for over 40 years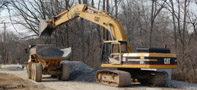 Thomas Construction Co., Inc is an infrastructure contractor that has served Eastern Tennessee, Southwest Virginia, and Western North Carolina since 1973.

We are located in Johnson City, TN but our work can be seen throughout a vast 100-mile radius.




OUR SERVICES INCLUDE

LAND CLEARING

EROSION CONTROL

DEMOLITION

SITE GRADING

BLASTING

STORM DRAINAGE

SITE UTILITIES

UNDERGROUND ELECTRICAL, TELEPHONE, CABLE

BASE STONE AND PAVING (CONCRETE & ASPHALT)

CONCRETE CURBS, GUTTERS, & SIDEWALKS

BRIDGES


ENERGY DEVELOPMENT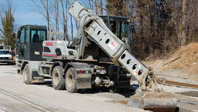 We specialize in site and infrasturcture development, which includes all services neccessary to ready land for residential, commercial, and industrial use.

Just look at our complete listing. We are also prequalified for road and bridge construction in TN, VA & NC with an unlimited bonding capacity.